You can only gain access to certain items and special pricing if you have logged in. Login Now.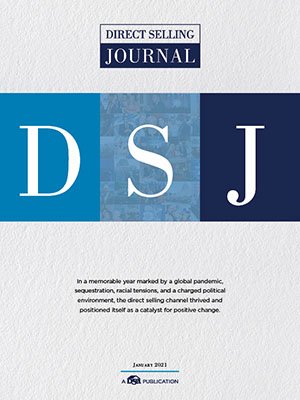 Format:
Print/Tangible (requires shipping)
DSA Members - $5.00
Non-Members - $7.00

Description:
DSA is proud to launch Direct Selling Journal, a new publication committed to presenting a comprehensive look at the issues facing the direct selling channel. DSJ will provide CEOs a regular platform to engage in discussion with their peers, sharing insights on topics of interest and best practices. You値l hear from DSA member company executives, global partners, public policy officials, and technology specialists, as well as industry luminaries, award winners, and innovative thinkers inside and outside the direct selling channel.
Product Details:
| | |
| --- | --- |
| Product ID: | 202001 |
| Publication Year: | 2021 |
| Pages, Size, or Length: | 124 pages |